·
I have 2 pleasures in life, cars & women
Discussion Starter
·
#1
·
I live just outside Chicago, in Northlake. I purchased a new home at the start of the year and I have a decent backyard but with this pandemic, I haven't had many friends over to get to enjoy it.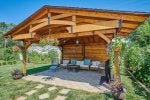 I just don't have the fancy patio furniture, the previous owners took it. :sad:
But I do have some tables and chairs.
If anyone wants, stop by and bring the Mopar (other vehicles welcomed) and lets hang out.
Saturday the 3rd. Any time after 2pm works.
PM me for the address.
I got some burgers and dogs. They're not Gene & Judes dogs, but they'll do.
I'll have some beer. Feel free to bring anything, alcoholic and non-alcoholic drinks, chips, meat for the grill, chips, whatever.
Daniel