·
Aliens Ate My Babysitter
Discussion Starter
·
#1
·
Honda Racing F1 'View Suspended'
View Suspended is a stunning art installation created from the thousands of parts that make up a Honda Racing F1 car.

The amazing display was created especially for the event by Dutch artist Paul Veroude. Each of the 3200 parts of the Formula 1 car are suspended on fine wires to produce a 3D 'exploded diagram' that allows race fans the chance to get closer than ever to the engineering secrets of the world's most technically-advanced sport.

Honda first recognised Veroude's talents two years ago, when Artwise Curators, who develop art projects with the Honda team, came across a museum exhibition of his deconstructed vehicles. Paul then got his first opportunity to get close up and personal with a Honda Racing F1 car during a visit to Silverstone. His passion for the sport and the Honda Racing F1 Team's engineering expertise catalysed a very special work of art.

For Paul, the opportunity to work with a top F1 team was the realisation of a life long ambition. For the Honda Racing F1 Team, the collaboration provided a unique opportunity to share the secrets of their success with fans.

Deputy Technical Director at Honda Racing, Gary Savage, took a personal interest in the project: "After meeting Paul we were keen to work with him to develop the installation and showcase our work. We know from our own experience, when we do drawings ourselves, exploded diagrams are very popular with people - you can see how things go together. This is a combination of engineering and sculpture - if you did it as a picture it would be very attractive but as a 3D thing it is even more stunning. It shows off our car in a very exciting and innovative way."

Honda's Head of Car Marketing, Jeff Dodds says: "The first time we saw View Suspended, we knew it would be perfect for the London Motor Show. It's creative, imaginative and a must see for visitors to the Honda stand. I can't think of a better expression of Honda's passion for F1 and engineering."
more images
here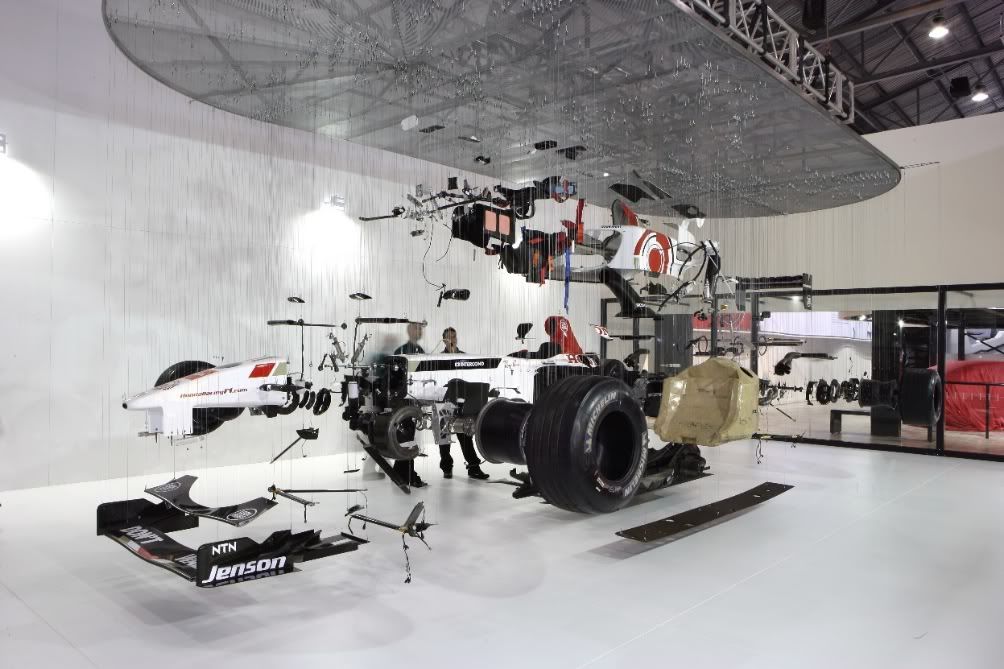 more images
here